Augusta Blue is a Power Trio…
…of Musicians Who Absolutely Love American Popular Music!
Augusta Blue is a power trio of musicians who absolutely love American popular music.
Kevin Johnson, the leader of the band is from Luray, VA. He has played music and entertained folks up and down the Atlantic seaboard from New Hampshire to Florida, and West to Colorado, singing Country Rock, Folk, Gospel, Bluegrass, Blues, and Rockabilly, from a one man band to six men on stage. He writes much of his own music as well.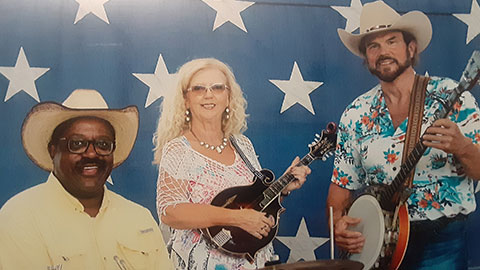 From a young age, Carolyn Johnson has charmed folks with her soft country voice and vocal harmonies. She hails from Waynesboro, VA, plays mandolin, guitar, and all the basses. Some of her best covers are of Patsy Cline, Loretta Lynn, and Bobby Jo Gentry.
Finally, Alphonso Tate, the band's "Heartbeat," (the Drummer) is happiest behind his favorite "Big Red" drum kit, playing all kinds of music from Bluegrass to Motown to Gospel.
This band has produced four music CDs since 2018: (1) Our Favorite Americana, (2) Sweet Spirit, (3) Reach Out For Love, (4) Bluegrass 4 U, as well as three earlier CDs by Kevin Johnson and an occasional rare recording or two.
If you love classic American music, this is the band for you!